I have a student at the moment who is extremely anxious about his romantic life. He is in his mid-teens and has concerns about the girls he has crushes on, and the girls crushing on him.
Anyone who has read my previous blog or who knew me when I was available will tell you that these are problems with which I am very familiar. As something of a late-bloomer, they are concerns which have dogged me even into adulthood. At a certain point in my life, I had a dozen crushes, a few admirers and a couple of almost-relationships at the same time.
The thing about being in this situation is that you forget what's really important. You look for drama and superficial attraction rather than real compatibility and friendship. I'd like to use an example from my own love life, if I may.
During last April's BEO competition I was working as a teacher and judge, The girl in question was a cute, Belarusian workmate with an accent like a Bond bad girl.
We hung out, flirted and talked for almost the full two-week competition. She would show interest, back off, then sulk when I hung out with someone else. It was a long, frustrating fortnight while she strung me along going hot and cold seemingly at random.
Meanwhile, I was texting another girl. We'd had an those awesome, easy and slightly-drunken converstation at the team-building booze-fest on the first day. We had also swapped numbers and stayed in touch. We laughed at the same off-colour jokes, shared geeky interests, and gossiped about all the adolescent romantic angst going on around us in both the students and staff.
While The Belarusian would get more and more jealous and needy as I gave her less and less puppy-like attention, I grew closer and closer to the girl I constantly texted whose face I could only sketchily remember. Ultimately, The Belarusian bécame another rarely spoken-to Facebook friend while I took Text Girl home and gave her a ring.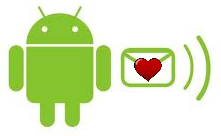 Other than some flirting, The Belarusian and I had very Little in common. Conversely, my fiancée and I can laugh and support each other through anything. It just goes to show: sometimes the right choice is right under your nose while you run around chasing the wrong one.
Happy Valentine's Day, darling. I love you.